Amy Morby is the blogger behind A is for Ampersand, a blog for all things vintage, fashion, design and continuous inspiration. Amy dedicated her blog during the month of February to implement a project dear to her heart and created the month of self love – learning to fight insecurity, love yourself, and start living in the moment.
We interviewed her about the inspiration for the revolutionary project and how she has connected the blogging world to her cause. Read along to find out more about how Amy is spreading and sharing beauty within the blogging world and beyond.
Read all the self-love blog posts here.
It is our pleasure to introduce to everyone, Amy Morby.

1. What was your inspiration for creating the self-love campaign?
I've always been a huge advocate for self-love, but the idea became a personal one after battling an eating disorder for close to a decade. After being in recovery for 6 years, I decided it was time to make the crusade a personal one and started the revolution on my blog. My blog was the only place where I felt I had a voice, and after seeing so much self-hate from fellow bloggers, I decided it was time to take a stand and spread the word that it IS ok to love yourself. Not only is it ok, but it's completely vital to our happiness as women.
2. What is your definition of beauty?
Women are inherently beautiful, and I firmly believe that. My definition of beauty is broad and varied, but I think that the greatest definition is strength. The most beautiful women I know are those that are strong in all areas of their lives–strong in their confidence, their beliefs, their kindness. Women who aren't afraid to be their own kind of woman and forge their own path. Beauty radiates from those that are strong.
3. What do you consider your "beauty mark"?
I love my ability to stand up for women. I love the fact that because of my struggles, I am now determined to spread the word about self-love. At this point, we are constantly barraged with messages of hating ourselves and becoming "better" but I love the fact that I have made it my personal crusade to tell women that no–we don't have to buy into that. We can be our own strength, we can love ourselves, and we can stand up for who we are as we are now. I want to be a beacon to women to show that it's time for change and that it's time to accept ourselves. By trying every singled day to become that source of inspiration, I, too, have to constantly strive to practice what I preach.
4. Why promote your campaign through the blogging world?
The blogging world is a hugely supportive arena. We are all women connected through similar interests and because of that, we are a tightly knit community. The blogging world, however, can also be a scary place where perfectionism and envy easily creep in. I wanted to create a positive space online where girls could come for inspiration–where they could see that not everyone is perfect but that is WHY we read each other's blogs in the first place. We read to connect, to forge relationships–not to invoke feelings of jealousy or inadequacy. I was completely overwhelmed by the viral spread of the self-love campaign, and I wish that all bloggers would blog about self-love. The internet is a powerful, powerful place.
5. How has social media helped throughout this campaign?
Social media is what made the self-love revolution possible. I created a button that others could place on their blogs, and that's where the viral swell really started. I encouraged everyone to tweet about their experiences, and the response was unreal! The more people tweeted and shared on their blogs, the more we connected we all became in our quest for self-love.
6. What are some of the "challenges" you've asked your readers to try? What's been your favorite?
I included 5 challenges during the self-love revolution:
Challenge #1: Be an Advocate for Positive Body Talk
Challenge #2: Wear it because you love it and feel fierce
Challenge #3: Pamper Yourself
Challenge#4: Learn to Radically Accept
Challenge #5: Write a Love Letter to Yourself
I loved all of the challenges, but my favorite was probably the radical acceptance one. I know that radical acceptance was monumental to my recovery, and I loved seeing everyone's responses to the post. My favorite challenge within that theme was encouraging girls to cut the tags out of their clothing and wear jeans with pride. The response was overwhelming and I was so glad to share one of my favorite tips!
7. What do you hope to achieve through your campaign?
All I really want is for women to start challenging the negative thoughts they think about themselves. I want them to first, start noticing that they do it, and second, start actively trying to change the way they think about themselves. I want them to know that it's ok to love yourself–that dieting isn't normal and that constantly bashing yourself isn't acceptable. If I can just make one person out there believe that they are worth more than a number, I will be successful.
8. How do you think our society's culture affects the perception of body image?
The longer I'm in recovery, the more baffled and disgusted I become with society. The models get smaller, the magazine ads more unrealistic, and the worst part is–it's all more acceptable than ever. Eating disorders are a joke and dieting is normal. It's NOT ok and it MUST stop. We all need to stand up for ourselves as women and let the world know that we won't take it anymore. We won't be made into objects and we won't be made to feel like we are worth nothing.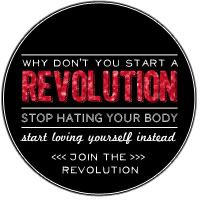 Thank you Amy for stopping by the Beauty Mark blog and spreading positive self image! We commend your strength, honesty and passion for standing up for women every where.